Hydralive Therapy® offers customized IV vitamin infusions to enhance health, performance, recovery and wellness. Whether your needs are reparative or preventative in nature, IV therapy is the only process that ensures 100% of its nutrients are absorbed. Visit with one of our registered nurses to discover your perfect treatment!
IV Therapy Add-ons

You can add nutrients to your IV treatment and customize your hydration therapy with supplements to support your lifestyle and wellness goals.
Toradol
Anti-Inflammatory: Toradol is a nonsteroidal anti-inflammatory drug (NSAID). It works by blocking your body's production of certain natural substances that cause inflammation. This effect helps to decrease swelling, pain, or fever.
Regular Price: $18
Member Price: $9
NOT for use during pregnancy or individuals with aspirin allergies.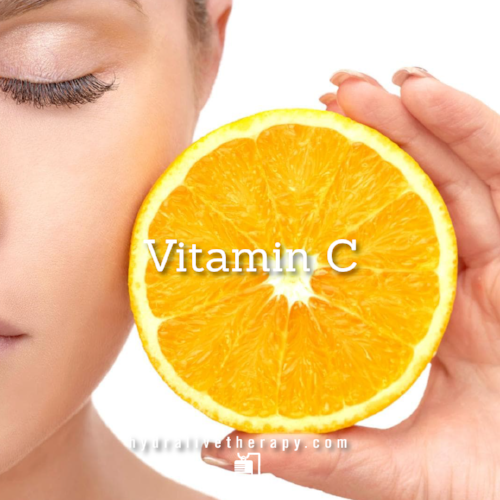 Vitamin C
Immune Booster/Illness Recovery: Vitamin C is required for the proper development and function of many parts of the body. It also plays an important role in maintaining proper immune function.
Regular Price: $30
Member Price: $15
Vitamin D
Known as the sunshine vitamin, Vitamin D is produced by the body in response to skin being exposed to sunlight. Vitamin D is essential for strong bones, because it helps the body use calcium from the diet.
Regular Price: $42
Member Price: $21
Zinc
Zinc is found in cells throughout the body. It helps the immune system fight off invading bacteria and viruses. The body also needs zinc to make proteins and DNA, the genetic material in all cells. During pregnancy, infancy, and childhood, the body needs zinc to grow and develop properly. Zinc also helps wounds heal and is important for proper senses of taste and smell.
Regular Price: $30
Member Price: $15
Selenium
Selenium is a nutrient that the body needs to stay healthy. Selenium is important for reproduction, thyroid gland function, DNA production, and protecting the body from damage caused by free radicals and from infection.
Regular Price: $18
Member Price: $9
Zofran (Anti-Nausea)
Antiemetic that provides relief from vomiting and nausea
Regular Price: $18
Member's Price: $9
NOT for use during pregnancy . Learn More
Luxury Add-Ons
Oxygen – $18

(Member Price $9)

Topical Anesthetic Skin Application (Pain Ease Spray or Cream) – $2
Most people call it mid-life. We prefer to call it your best life! Start living it today!